Všichni chceme cestovat a objevovat nová skvělá místa...
Musím se přiznat, že čím jsem starší, tím víc na sobě začínám pozorovat, že se ze mě stává větší "konzerva". Což se mi samozřejmě nelíbí a systematicky se to snažím potlačovat. Můj konzervatismus se projevuje poslední dobou především při výběru restaurací a hotelů. Pokud mám zvolit místo, kam pojedeme, místo objevování nových navštěvuji pořád dokola prověřené oblíbence. Jak už jsem na blogu psala, je to vlastně pořád dokola Miura, Heralec, Mcely kvůli blízkosti Prahy... Jedním z důvodů, proč sahám po osvědčené klasice, je samozřejmě to, že chci mít jistotu, že si těch pár dnů, někdy jen hodin, maximálně užijeme...
Na wellness hotel V Nebi jsem si brousila zuby, jak se říká, dlouhou dobu, přes rok. Jako vždy však byl termín, který jsem chtěla zarezervovat, obsazený. Poprvé, a rozhodně ne naposledy, jsem zde byla minulý týden. Rezervaci jsme měli zhruba dva měsíce předem a pro těm z vás, které moje stories nebo článek zaujal, určitě doporučuju objednat si pobyt předem, mají pouze 13 pokojů...
Zarezervovala jsem Garden Spa Suite (pro třídenní pobyt určitě doporučuji suite než pokoj)... Jak napovídá název, jedná se o větší pokoj se vstupem na zahradu, venkovním posezením a vlastní privátní saunou. Ideální volba pro ty, kteří bez cigarety dlouho nevydrží, což je i případ mého stálého klienta... Garden Suite je vskutku krásné, prostorné a velmi stylové místo. Jako dělané pro spoustu privátních chvilek, míst, kde si tu můžete do sytosti užívat, je opravdu spousta, ať už je to prostorná sprcha, široká zlatá postel se zrcadly po stranách :-), vana nebo křeslo, kde mohou být všechny vaše orální choutky pohodlně uspokojeny... Hodit se mi do interiéru, stejné křeslo bych si ihned pořídila do svého nového bytu :-)
We all want to travel and discover new amazing places ...
I have to admit that the older I get, the more conservative I am. Which, of course, I don't like, and I systematically try to suppress it. My conservatism has recently manifested itself mainly in the selection of restaurants and hotels. If I have to choose the place where we will go, instead of discovering new ones, I always visit proven favorites all the time. As I already wrote on the blog, it's actually always around following hotels Miura, Heralec, Mcely due to the close distance from Prague ...
One of the reasons why I reach for my favourite hotels again and again is that I want to be sure that we will enjoy those few days, sometimes only a few hours, to the maximum ...The cozy wellness hotel "V Nebi" I wanted to try for a long time. However, the date I wanted to book was always busy. For the first time, and certainly not the last, I was there last week. We had a reservation about two months in advance and for those of you who were interested in my stories or this article, I definitely recommend booking your stay in advance, they have only 13 rooms ...
I booked the Garden Spa Suite (for a three-day stay I definitely recommend the suite rather than the room) ... As the name suggests, this is a larger room with access to the garden, outdoor seating, and its own private sauna. An ideal choice for those who do not last long without a cigarette, which is also the case with my regular client ... The Garden Suite is a really beautiful, spacious and very stylish place. Meant for a lot of private moments, there are really many places where you can enjoy yourself to the fullest, whether it's a spacious shower, a wide golden bed with mirrors on the sides :-), a bathtub or an armchair where all your oral fantasies can be comfortably satisfied ... Should it match my interior, I would immediately buy the same chair for my new apartment :-)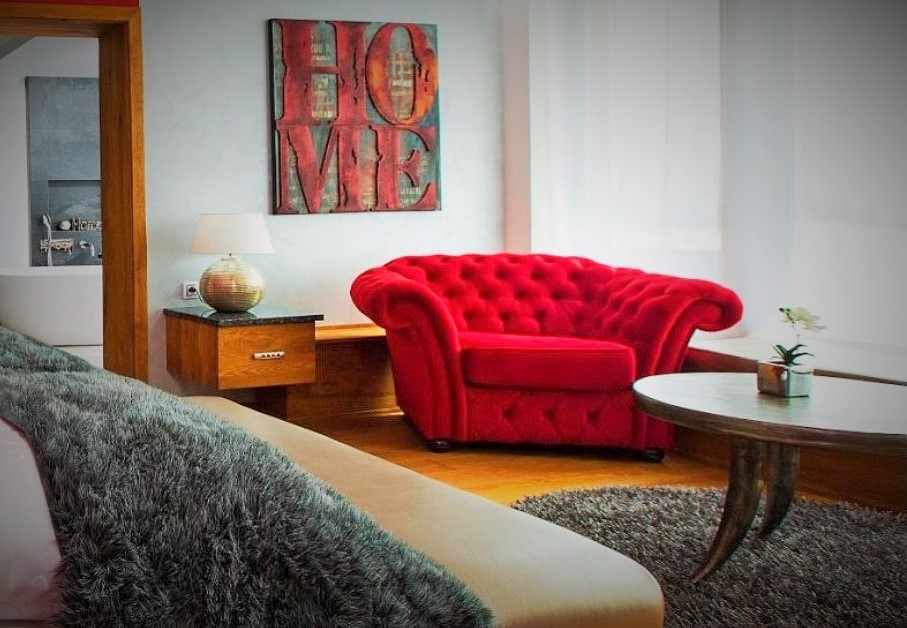 Výhled z místního venkovního bazénu i celého hotelu je nebeský, nicméně jak jste mohli vidět v mých videích, bazén je spíš úzká dlouhá nudle. Na druhou stranu plně dostačující, vzhledem ke kapacitě hotelu se mi nikdy nestalo, že bychom byli v bazénu ještě s někým... Všechny kosmetické a relaxační procedury, které jsme navštívili, byly perfektní. Jednalo se o:
· Slim – ošetření proti celulitidě a pocitu těžkých nohou;
· Relaxační masáž celého těla – Diův odpočinek;
. Twin "ROYAL" -Relaxační procedura v privátním SPA s kamennou vanou pro dva
· Ošetření obličeje patentovanou řadou Babor HSR.
Určitě doporučuji si naplánovat procedury při rezervaci pokoje, ať je máte objednané na stejný čas a zbytek volna můžete trávit společně...
The view from the outside pool and the whole hotel is heavenly, however, as you could see in my videos, the pool is rather a narrow long noodle. On the other hand, fully sufficient, given the capacity of the hotel, it never happened to me that we were in the pool with someone else ... All the beauty and relaxation procedures we visited were perfect. They were these:
· Slim - treatment against cellulite and heavy legs;
· Relaxing full body massage - Zeus rest;
. Twin "ROYAL" - Relaxation procedure in a private SPA room with a stone bathtub for two- I ESPECIALLY RECOMMEND THIS ONE!
· Facial treatment with the patented Babor HSR series
I definitely suggest planning procedures before your arrival, so that you will have them ordered at the same time and you can spend the rest of your free time together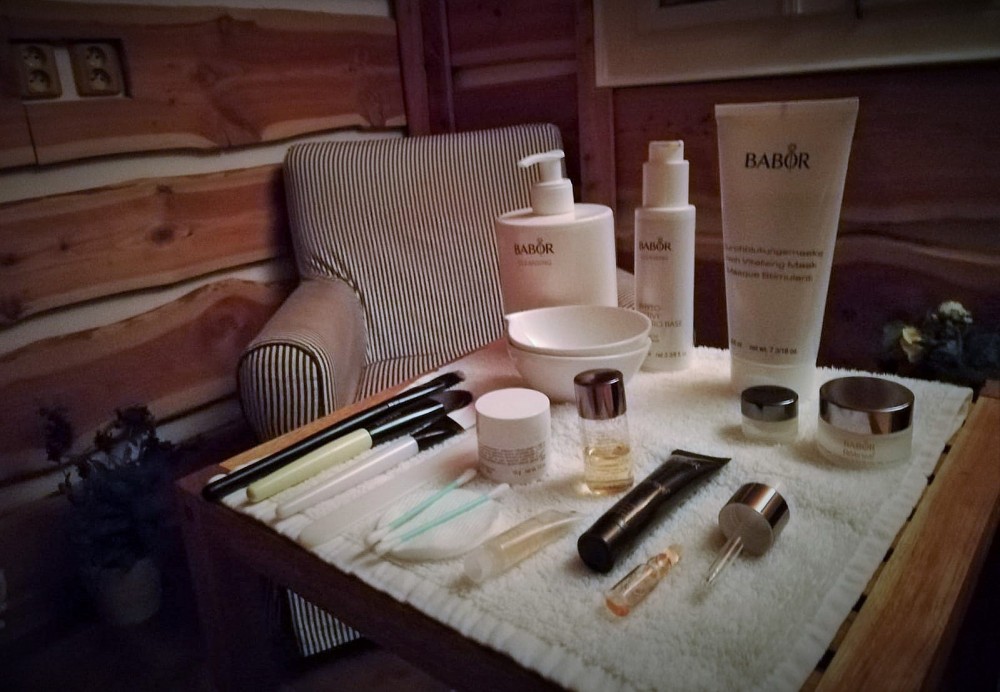 Určitě doporučuji si naplánovat procedury při rezervaci pokoje, ať je máte objednané na stejný čas a zbytek volna můžete trávit společně...
Co se týká okolí, měla jsem pocit, jako když jsem vyšla u nás na vesnici – kostel, pole, louky, chaty. Počítejte s tím, že pokud si budete chtít udělat výlet jinam než na nnedalekou rozhlednu, třeba do nedalekého Harrachova (je tam totiž obchod Sportalm ;), bez auta se neobejdete. Byť je hotel dobře značený a navigace vás sem bez problému dovede, do poslední chvíle budete mít pocit, že vyjíždíte k někomu na návštěvu do velkého, hezkého rodinného domu... Dechberoucí výhled, terasa, bazén i hotel celkově jsou z příjezdové cesty dobře skryty.
Hotelová restaurace je lehce v rakouském stylu. Mám na mysli jak oblečení personálu, tak i formu večeří... Salátový bufet, možnost výběru jednoho ze dvou hlavních chodů a jednotný dezert. Vše, co jsme měli možnost ochutnat, bylo opravdu vynikající. Jedinou výtku mám, že zde nefunguje á la carte... Pokud přijedete lehce hladoví po poledni jako my a budete předpokládat, že si před check - inem dáte oběd v restauraci, moc nepochodíte... Ale uznávám, že to byla moje chyba, měla jsem zavolat a zjistit si předem, jak restaurace funguje... Nehladověli jsme samozřejmě do večeře, tím ještě jednou oceňuji snahu všech zaměstnanců i majitelů hotelu V Nebi, kteří se snaží splnit přání hostů.
About the surroundings, I felt like when I went out to our village - a church, fields, meadows, and a few cottages.
If you want to take a trip other than to the nearby lookout tower, for example to nearby Harrachov (there is a Sportalm store;), Count on the fact that you can't do without a car. Although the hotel is well marked on the way and the navigation will take you there without any problems, until the last moment you will feel like you are going to visit someone in a nice large family house ... Breathtaking views, the terrace, the pool and the hotel are well hidden from the driveway .
In short, an ideal place for unforgettable relaxation for two. Because who would like to go to the local lookout tower or to the mountains, if they had the opportunity to enjoy private moments in the design rooms, or unwind in the stylish Spa.
The hotel restaurant is in Austrian style. I mean in the way they serve dinner and also the clothing of the staff ... Salad buffet, a choice of one of the two main courses and dessert. Everything we had the opportunity to taste was really excellent. My only complaint is that there is no á la carte ... If you come slightly hungry in the afternoon like us and you assume that you may have lunch in the restaurant before check-in, you will not succeed. But I admit that it was my fault, I should have called and found out in advance how the restaurant works ... Of course, we did not starve until dinner, so I once again appreciate the efforts of all the staff and owners of the hotel V Nebi.