"Čím větší, tím lepší." Dlouhou dobu jsem se řídila tímto heslem, když jsem vybírala nový vibrátor či dildo. Automaticky jsem při výběru přeskakovala všechny co do velikosti menší modely. Vzhledem k tomu, že "hříšný šuplík", jak nazývám komodu, ve kterém mám všechny erotické pomůcky uskladněné, je už z velké části naplněný nejrůznějšími hračkami, začala jsem se poslední dobou zajímat i o robertky, které jsem dříve přehlížela.
"The bigger, the better." I followed this motto for a long time, each time I chose a new vibrator or dildo. During the selection process, I always skipped all smaller models. Since my sex toy drawer became already largely filled, I have recently become interested in dildos, which I previously overlooked.
Výrobky od Fun Factory jsou podle mě sázkou na jistotu. Vše, co jsem měla možnost vyzkoušet, bylo perfektní a předčilo má očekávání. Sundaze Pulse, který také pochází z dílny tohoto světově proslulého výrobce erotických pomůcek, není výjimkou. Na trh byl uveden na konci loňského roku, takže po důkladném testování přišel čas na recenzi.
In my opinion, products from Fun Factory are a sure bet. Everything I had the opportunity to try was amazing and exceeded all my expectations. Sundaze Pulse, which also comes from this world-famous manufacturer of erotic toys, is no exception. It was launched at the end of last year, so after thorough testing it´s time for a review.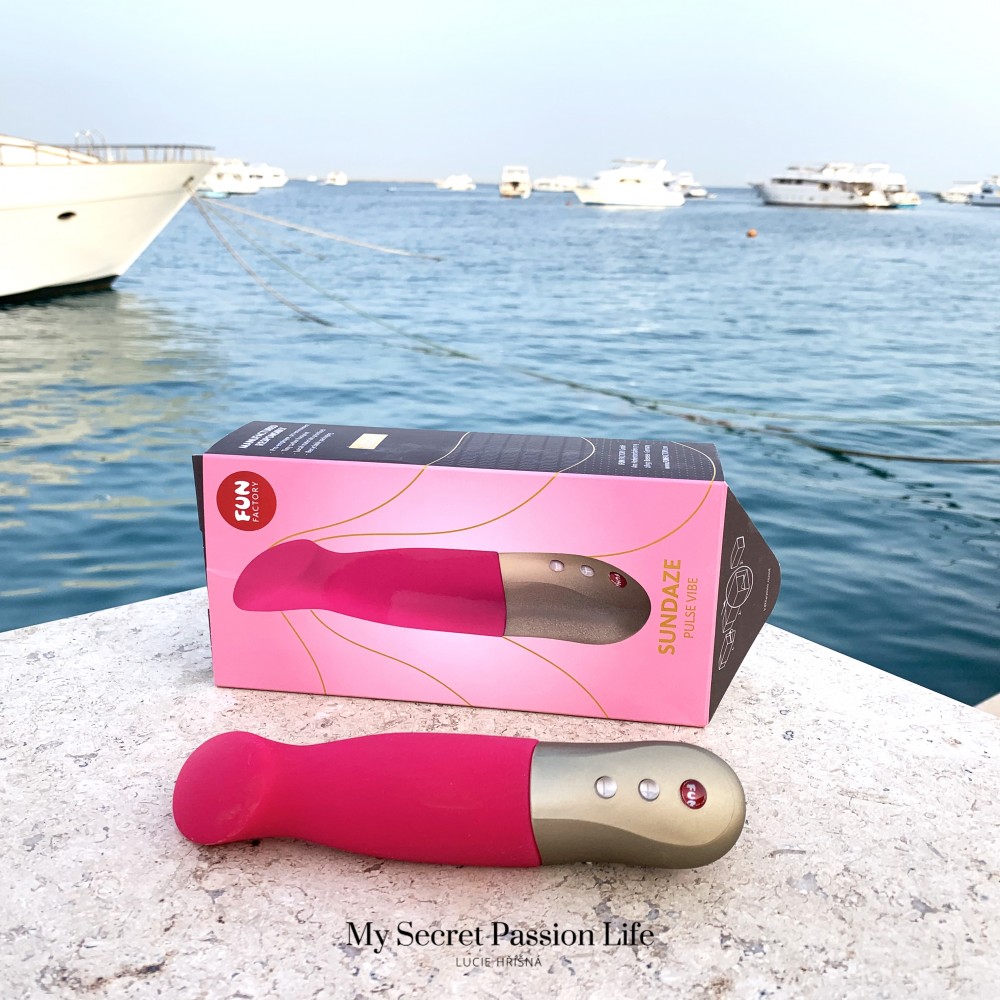 Není mi moc sympatické v mých hodnoceních zmiňovat informace a vlastnosti výrobků, které najdete v jeho popisku na každém e-shopu, kde ho mají v nabídce. Ale na druhou stranu je důležité zmínit, že vše uvedené v popisu je skutečně pravdivé a výstižné.
3 různé typy stimulace: vibrace, pulzace a klepání/příraz
stimuluje nervová zakončení, která jiné vibrátory nemohou
neuvěřitelně tichý motor
extra hebký silikon
tvar vhodný jak pro stimulaci klitorisu, tak bodu G
11 rychlostí a 4 vibrační rytmy
voděodolné provedení
Sundaze Pulse je extrémně tichý, takže ho oceníte, pokud si chcete nerušeně užívat i přesto, že máte v okolí pár či několik párů zvědavých uší. Pokud dokážete být při vyvrcholení naprosto potichu, což třeba není můj případ, věřím, že si můžete udělat hezkou chvilku s tímhle fešákem pod peřinou, zatímco vedle vás klidně může někdo nerušeně oddychovat.
I don't like to mention in my reviews the information and properties of the products, which you will find in its description on every e-shop where they have it on offer. But on the other hand, it is important to mention that everything in the description of Sundaze Pulse is really true and concise.
Pulsing and thrusting vibrator for internal or external stimulation
New technology for instant arousal and fuller orgasms
Zingy or rumbling vibration, stroking, fluttering, hands-free thrusting, and more..
Unbelievably quiet toy
Stimulates nerve endings other vibrators can't, for new sensations with 11 patterns & 4 rhythms
Fully waterproof for fun in bath or shower
The Sundaze Pulse is an extremely quiet toy, so you'll appreciate it a lot if you want to enjoy it undisturbed even though you have a pair of curious ears around you. If you can be completely silent during your climax, which may not be my case… I believe you can have a nice pleasant time with this handsome vibrator under the duvet, while someone next to you can easily peacefully rest and sleep.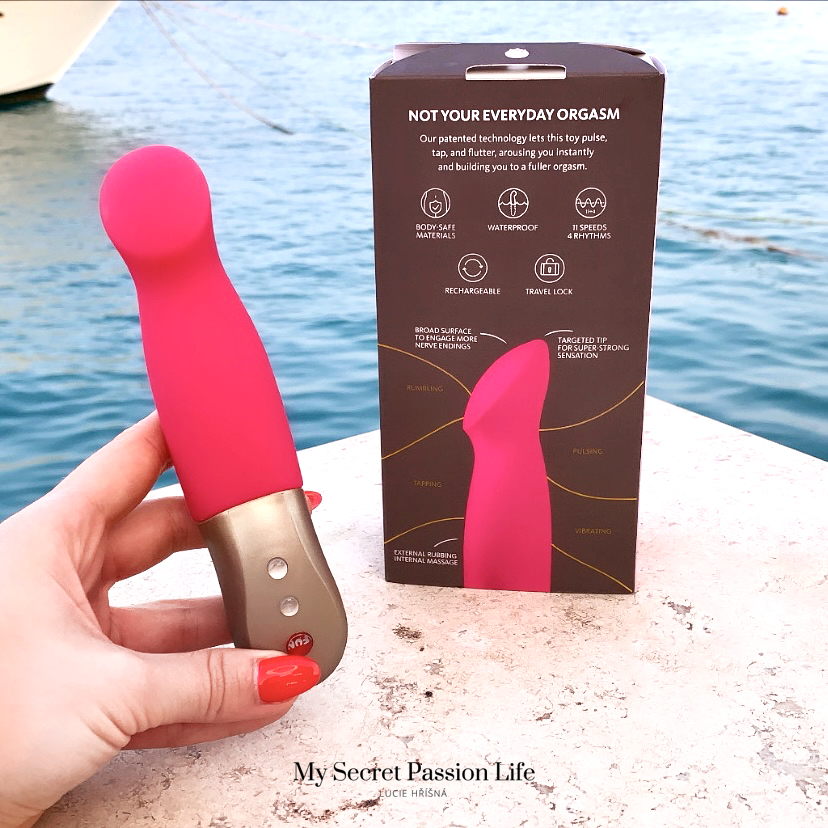 Pokud bych měla Sundaze Pulse přirovnat k hračkám, které mám doma, tak je to kombinace legendárního pulzátoru od stejného výrobce Stronic G, výkonnost pulzátoru je velmi obdobná a za mě naprosto dostačující, i když samozřejmě záleží na tom, jakou intenzitu přirážení máte v oblibě... Vibrace zase připomínají mého dalšího oblíbence, "růžováka" Wavy Vibes. Fuchsiový Sundaze Pulse, který si můžete pořídit také v mentolové barvě, je délkou menší než obě zmiňované hračky, se kterými ho srovnávám (je kratší cca o 4,5 cm).
O trošku menší velikost považuji především v případě pulzačních funkcí za výhodu. I když se nepovažuji za "nezkušenou pannu nepolíbenou", tak v některých polohách na mě byl Stronic G příliš velký, proto jsem rukou musela regulovat délku zásunu. Se Sundaze jsem nic podobného řešit nemusela, a naopak jsem ho v těchto polohách ihned vyzkoušela.
If I should compare the Sundaze Pulse to the toys I already have at home, then for me it is a combination of the legendary pulsator from the same manufacturer Stronic G - the performance of the pulsator is very similar and completely sufficient for me, although of course it depends on the intensity of the surge which you like ... And the vibrations are reminiscent of my next favorite vibrator, the pink Wavy Vibes. The fuchsia Sundaze Pulse, which you can also buy in mint color, is shorter in length than the two toys I am comparing it to (it is about 4.5 cm shorter).
I consider the smaller size to be a great advantage, especially in the case of pulsation functions. Although I don't consider myself an "inexperienced virgin", the Stronic G was too big for me in some positions. That's why I had to adjust the length of the insertion with my hand. I didn't have to deal with anything similar with Sundaze, and on the contrary, I immediately tried it in these positions.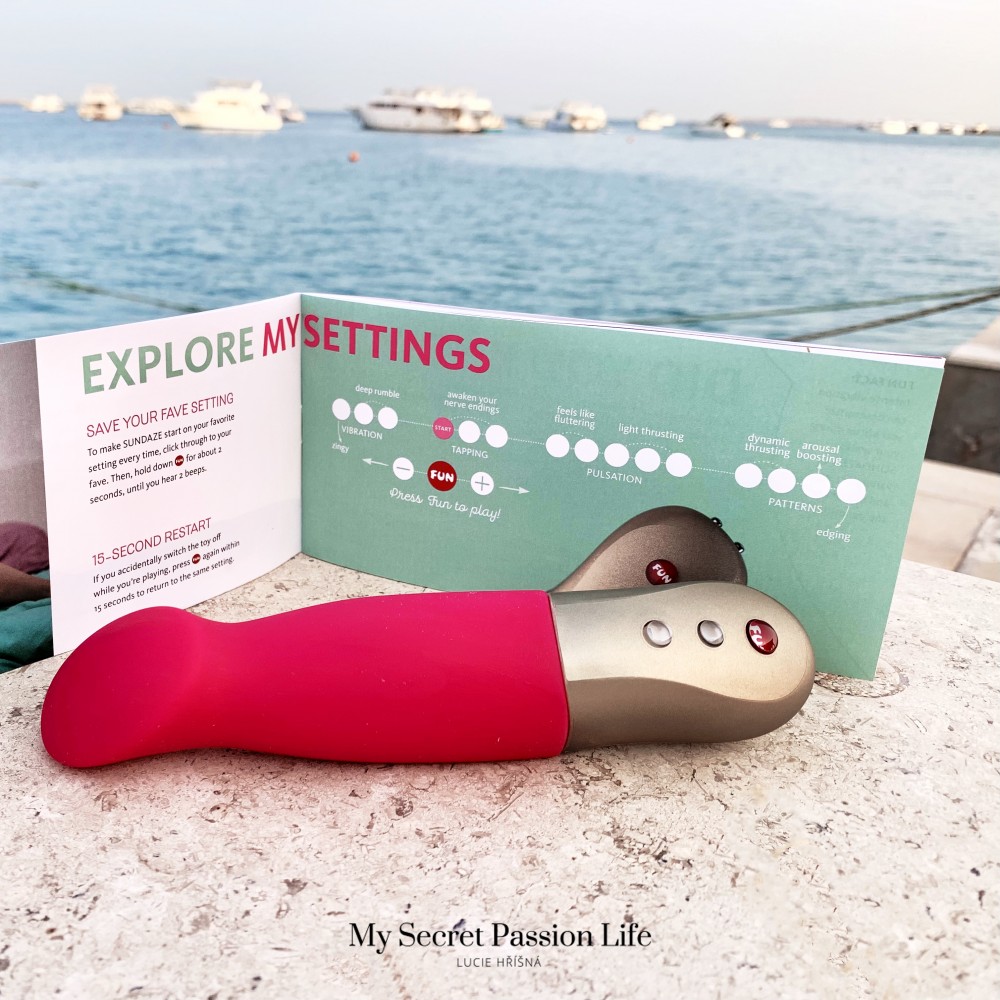 Co se týká spodního prádla a erotických pomůcek, rozhodně nepatřím mezi minimalisty, ale pokud je vám sympatické nezatěžovat nákupem spousty věcí naši planetu či váš rozpočet, určitě oceníte, že Sundaze Pulse, jak už z názvy vypovídá, je pulzátor i vibrátor zároveň.
Nejsem moc fanouškem jakýchkoliv výrobků 2v1, protože celkem často mám pocit, že pak nedělají ani jednu funkci na 100 % a je z toho takový paskvil. V tomhle případě to naštěstí neplatí. 15 různých režimů se naučíte snadno nastavovat, ale i si jich naplno užívat. Sundaze Pulse je proto podle mě ideální parťák na cesty (vyzkoušeno v celkem malé kajutě) i pro ty z vás, kteří nechtějí nebo nemají prostor na to, mít doma uskladněnou půlku sexshopu...
As for sexy lingerie and erotic toys, I definitely do not belong among minimalists. But if you like to not to burden our planet or your budget by buying a lot of things, you will certainly appreciate that Sundaze Pulse, as the name suggests, is both a pulsator and a vibrator at the same time.
Mostly I'm not a fan of any 2in1 products, because quite often I feel that they don't do a single function 100%. Fortunately, this is not the case. You will learn to easily set 15 different modes, but also to enjoy them to the fullest. Therefore, in my opinion, the Sundaze Pulse is an perfect travel buddy - tested in small boat cabin. And is also great choice for those of you who do not want or do not have enough space to have half of the sex shop stored at home ...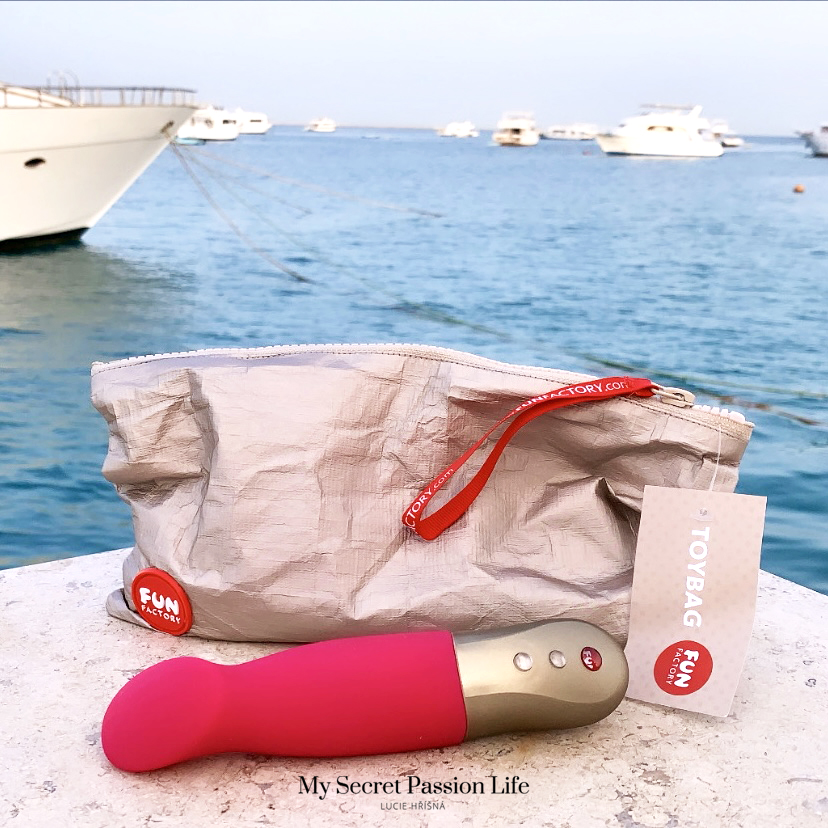 Víte, že nejsem žádný technický expert, takže se tu nechci pouštět do složitých popisků, v čem je motorek tohohle výrobku inovativní a jiný, veškeré detailní informace najdete ve videu od výrobce.
Magnetický vibrační motorek stimuluje všechna nervová zakončení uvnitř, pozvolna dráždí, díky tomu jsou pak vyvrcholení hlubší a intenzivnější. Přesně to, co výrobce slibuje, funguje, což je podle mne nejdůležitější. Pokud si rádi užíváte delší čísla a netoužíte vyvrcholit v minutě, otočit se a usnout (na to je perfektní třeba Womanizer nebo LELO Sona Cruise), tak si Sundaze Pulse zamilujete.
You know that I'm technical expert, so I don't want to go into complicated describtions here, what makes the motor of this product innovative and different. You can find all the important and detailed information as well in the video from the producer.
The magnetic vibrating motor stimulates all nerve endings inside, thanks to which the peaks are deeper and more intense. Exactly what they promises works, which I think is the most important thing. If you like to enjoy longer sesson and don't want to be in orgasmic heaven in a minute, turn around and fall asleep (a Womanizer or LELO Sona Cruise, for example, is perfect for this), then you will fall in love with Sundaze Pulse.